Our projects occur throughout the year, so we are constantly in researching, planning and delivering mode. But day to day there is often something that catches our socially responsible eye, so welcome to our monthly blog, our scrapbook. Think of each post as a little leaf from our social responsibility tree!
18 February 2021
We are delighted to again be invited to participate in The KAUST School's Saudi University Fair - Social Responsibility will be welcoming students invited from schools in Jeddah, Thuwal, Qadimah and Saabr. The 3rd annual event has built on its previous years and is scheduled to offer an even broader selection of higher education institutions, including Effat University, Jeddah; University of Bisha; Jeddah International College; Taibah University; Dar Al-Hekma University, Jeddah; Riyadh Elm University; Jeddah University; Mohammed Bin Fahd National University, Al-Khobar; Batterjee Medical College, Jeddah; University of Business & Technology, Jeddah; Arabic Open University, Jeddah; Prince Sultan Aviation Academy, Jeddah; Umm Al Qura University, Makkah; Princess Nourah Bint Abdul Rahman University, Riyadh; and, Al-Faisal National University, Riyadh - between them they offer 141 courses.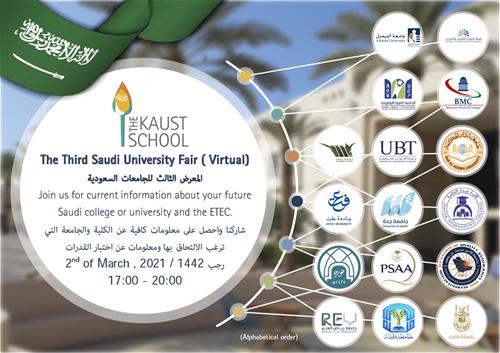 ---
11 February 2021
Today we celebrate International Day of Women and Girls in Science
"Don't let anyone rob you of your imagination, your creativity, or your curiosity. It's your place in the world; it's your life. Go on and do all you can with it, and make it the life you want to live." Mae Jemison, first African American woman astronaut in space

While women may still be in the minority - less than 30% of the world's researchers are women (UNESCO), KAUST is contributing to levelling the playing field. In December 2020, 97 female scientists graduated at Commencement – 61 with Master's degrees and 36 PhDs; UNESCO/L'Oreal have recently recognized two KAUST PhD students – Asma Al-Amoodi, with the For Women in Science Middle East Fellowship and Asrar Damdam, one of six winners of the For Women in Science Middle East Regional Young Talents Program along with Dr Lama Al-Abdi, (KAUST Masters in Bioscience) for her post-doctoral research.
Opening the doorway to the exciting possibilities in science is why Science and Math is a stalwart of Social Responsibility's Young Learners Development Program – our projects, including the Science Summer Camp, and Frontiers for Young Minds, are designed to remove barriers to learning, boost confidence and encourage curiosity because the world needs as many enquiring minds as possible!